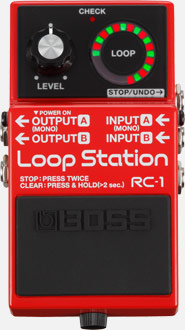 Straightforward and easy to operate
Newly designed loop indicator displays the current loop mode (Rec/Overdub/Play)
Runs on a single 9-volt alkaline battery (approximately 4.5 hours of battery life)
Can be used with an optional AC adaptor (PSA series: sold separately)
12 minutes of stereo recording time
Stereo inputs and outputs
Flexible external footswitch options
Recorded phrase is retained in memory even after the RC-1 is turned off
BOSS five-year warranty
Everyone always wants to be "in the loop," but with other loopers, you may not have enough recording time to capture every phrase that you want for your masterpiece. With its 12 minutes of stereo recording time, the RC-1 has the most stereo recording time in its class.
It doesn't matter if you're a beginner or a concert touring professional. The RC-1 is a great choice for any guitarist, bassist or keyboardist concerned with usability and simplicity while having lots of fun!
You can incorporate the RC-1 into your existing pedalboard or effects system. It's also a great way to learn, practice or improve your playing by quickly and easily creating your own backing track to jam along with. You can also loop stereo instruments like synthesizers and have a ball playing along.
You can incorporate the RC-1 into your existing pedalboard or effects system. It's also a great way to learn, practice or improve your playing by quickly and easily creating your own backing track to jam along with. You can also loop stereo instruments like synthesizers and have a ball playing along.
Apparently, some other products are based on the belief that mono recording and playback is good enough for you. In this day and age, we here at BOSS believe that it's not too much for you to expect a stereo looper. With stereo inputs and outputs, you can record and playback your creations in stereo, the way music was intended to be played, performed, and enjoyed.
PECIFICATIONSNominal Input Level-20 dBuInput Impedance1 M ohmNominal Output Level-20 dBuOutput Impedance1 k ohmRecommended Load Impedance10 k ohms or greaterMaximum Recording TimeApproximately 12 minutesControlsPedal switch
LEVEL knobIndicatorsCHECK indicator
LOOP indicatorConnectorsINPUT A (MONO) jack: 1/4-inch phone type
INPUT B jack: 1/4-inch phone type
OUTPUT A (MONO) jack: 1/4-inch phone type
OUTPUT B jack: 1/4-inch phone type
STOP/UNDO jack: 1/4-inch TRS phone type
DC IN jackPower SupplyAlkaline battery (9 V, 6LR61)
AC adaptor (sold separately)Current Draw95 mAExpected battery life under continuous use (These figures will vary depending on the actual conditions of use.)Alkaline: Approx. 3 hoursAccessoriesOwner's manual
Leaflet ("USING THE UNIT SAFELY," "IMPORTANT NOTES," and "Information")
Alkaline battery (9 V, 6LR61)Options (sold separately)AC adaptor: PSA series
Footswitch: FS-5U, FS-6, FS-7SIZE AND WEIGHTWidth73 mm
2-7/8 inchesDepth129 mm
5-1/8 inchesHeight59 mm
2-3/8 inchesWeight440 g
1 lb

History Repeating

How the BOSS RC series has inspired the looping scene for 17 years.By Henry Yates, Journalist

Right now, somewhere in the world, a live musician is breaking the rules with a loop pedal. From Ed Sheeran at Glastonbury to the hot-tip local songwriter at the open-mic night, the sheer possibilities of looping have attracted musical mavericks from every genre, each one of them twisting the concept to fit their own vision. In 2018, the buzz around looping has never been louder. But every revolution needs a flashpoint – and after 17 years and one million units sold, there's no doubt it was the BOSS RC Loop Station series that lit the fuse.

It's true: the looping concept existed before the RC series. Rewind to 1963 and US jazz-man Terry Riley was dabbling with basic tape loops on his track Music For The Gift. By the early-'70s, guitarist Robert Fripp and producer Brian Eno had moved the art form onwards with the so-called 'Frippertronics' technique, using two reel-to-reel tape machines to create layered sounds. But the technology moved painfully slowly. As recently as the '90s, most of the looping pedals available to everyday musicians were frustratingly basic, offering just a few seconds of sampling time and operation that often resulted in an onstage car-crash.

Enter BOSS. The Japanese innovator had planted the flag for digital looping in the mid-'80s with the acclaimed DSD-2 and DSD-3 – but it was the original RC-20 Loop Station of 2001 that drew a line in the sand. Quite simply, this twin-footswitch unit changed everything, turning a cult technique into a mainstream phenomenon, thanks to its unprecedented five-minute sampling time, overdub and real-time tempo change functions, AUX input – plus 11 flash memory slots, ready to be loaded with backing tracks and samples.

Before the BOSS RC-20, a solo performer was limited by the capabilities of their ten fingers. Now, by drilling into those groundbreaking features, they could become a rhythm section, an orchestra, a guitar army or a choir of angels. The possibilities became thrillingly clear when an up-and-coming Ed Sheeran chose the updated BOSS RC-20XL in 2004, and used its 16-minute recording capacity to fuse beatbox vocals, dovetailing guitar riffs and percussive beats on the body of his acoustic.

Since then, the popularity of looping has snowballed on the live scene, and that passion has been echoed at BOSS, where the firm's brightest minds dedicate themselves to pushing the technology ever-further. In 2006, the RC-2 Loop Station fitted its deceptively powerful tech into a compact single-stompbox unit, while the RC-50 let ambitious musicians perform more aggressively with three loop tracks. In 2011, the RC-3 kept the practical size but upped the spec with three hours of stereo recording, storage for 99 loops and USB compatibility to connect to a PC. That same year, as the RC series hit its first decade and BOSS hosted the first Loop Station World Championships, the RC-30 brought fresh relevance with two stereo tracks with dedicated faders, built-in FX and compatibility with a range of instruments. Always pushing forward, BOSS then unveiled the RC-300, raising the spec and putting almost infinite creative possibilities under users' boots.

Looping might be built on repetition, but deep into the millennium, BOSS has kept breaking new ground. In 2013, the RC-505 Loop Station offered five independent stereo tracks and flexible effects in a tabletop format for beatboxers to control by hand. And yet, even as it explores cutting-edge technology, BOSS has never forgotten to keep its offerings streamlined and player-friendly. Unveiled in 2014, the RC-1 was the most intuitive Loop Station model to date, putting on-the-fly looping capabilities onto the stage of even the most technophobe live performer. Meanwhile, in 2016, the scaled-down RC-202 packed in the highlights of the RC-505, but punched above its weight with ultra-compact dimensions.

In 2018 – as BOSS launches a limited one-year run of the RC-1 in a head-turning black finish – the RC Loop Station series is still the beating heart of the looping scene. These are the pedals you'll hear on the seminal albums and find on the biggest stages. They're picked out by the most imaginative players around the world and praised by the looping movement's greatest exponents. Seventeen years and one million sales might feel like a milestone, but it's really just a momentary stopover. The RC revolution is only just getting started…

The RC-1-BK is a special commemorative pedal that celebrates the sales of over one million Loop Stations to date. Based on the popular RC-1, the limited-edition RC-1-BK features a black finish with red lettering, and will be available in 2018 only. Other than the color, it's identical to the standard RC-1, the top-selling model in the Loop Station lineup.
Housed in the famous BOSS compact pedal chassis, the RC-1 and RC-1-BK are ideally suited for guitarists, bassists, and other instrumentalists. The simple, direct interface makes it easy to capture loops, while a unique visual indicator clearly shows the loop cycle and operation status. These versatile pedals work with both mono and stereo setups, and offer up to 12 minutes of stereo recording. All basic looping functions are controlled with the integrated pedal switch, and external footswitches can be connected for instant access to extended functions while performing.